Constructing FOBs
[BASE FACILITIES] under the iDroid's [MOTHER BASE] tab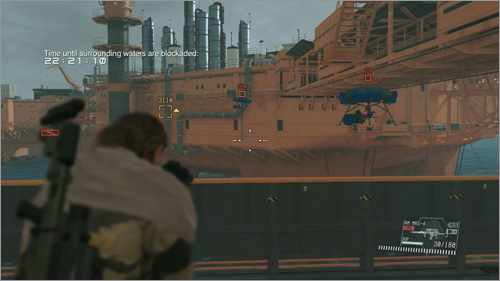 FOB
Since Mother Base has a limited capacity, you will need to construct separate FOBs (forward operating bases) if you want to further expand your organization.
Constructing FOBs also offers benefits such as increased materials income via the Base Development Unit's "Materials Procurement" function, and the ability to launch attacks on rival PFs (other users registered online) and steal their materials and personnel.
However, be aware that your FOBs can also come under attack from rival PFs.
To construct an FOB, purchase territorial waters from [BASE FACILITIES] on the iDroid's [MOTHER BASE] tab.
* You must have an active PlayStation®Plus membership and log in to the PlayStation™Network to use all FOB features.
* You must be logged in to the PlayStation™Network.
* MB Coins (paid currency) are required in order to purchase waters in more than one region.
Infiltrating FOBs
[FOB MISSIONS] under the iDroid's [MISSIONS] tab
You can infiltrate FOBs belonging to other users and steal their materials and personnel.
FOBs you can infiltrate must either be in the same PF Grade bracket as you, be a rival who infiltrated your FOB in the past, or be the retaliation target of a PF you are supporting.
If you can reach the core of the platform you have infiltrated, you will capture a large number of personnel from your opponent.
However, if your opponent's forces spot you, the user who owns the FOB may come and join the defense.
FOB Defense
If your FOB comes under attack, you will receive a notification even mid-mission.
You can choose to join the defense yourself, or leave it to your Security Team.
When you are not playing the game or choose not to join the defense, your FOB will be defended automatically by your Security Team and security devices.
Gain supporter PFs using [RELATIONSHIPS] in the iDroid's [MISSIONS] tab, and friendly users may come to help your defense.
Gaining Supporter PFs
[RELATIONSHIPS] under the iDroid's [MISSIONS] tab
Select a PF of your choice from the [SUPPORTING] or [RANDOM] lists and press the button to request their support, adding them to the [SUPPORTERS] list.
When your FOB comes under attack and you cannot defend it yourself, your supporters can defend it for you.
Make a habit of supporting other PFs, and they just might support you too.
Check the [SUPPORTING] list to see which PFs you are supporting.
You can also share retaliation targets with your [SUPPORTERS] and [SUPPORTING] PFs.
Bonus Rewards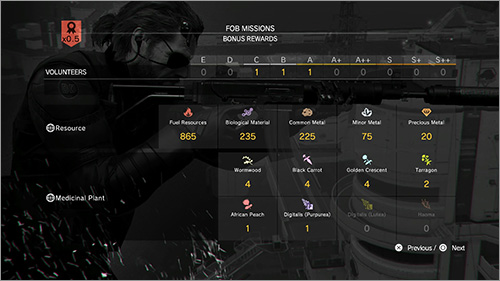 Bonus Rewards
You can earn rewards for successfully infiltrating or defending an FOB, besides the materials and personnel you steal from the opponent.
The rewards are even greater for successfully defending another user's FOB.
Security Settings
[SECURITY SETTINGS] under the iDroid's [MOTHER BASE] tab
Here, you can configure how your Security Team will defend your FOBs.
PF Grade
[PF GRADE] under the iDroid's [MOTHER BASE] tab
View the rankings of all online users and your own rating (grade) among PFs worldwide.