METAL GEAR ONLINE
[METAL GEAR ONLINE] on the Title Menu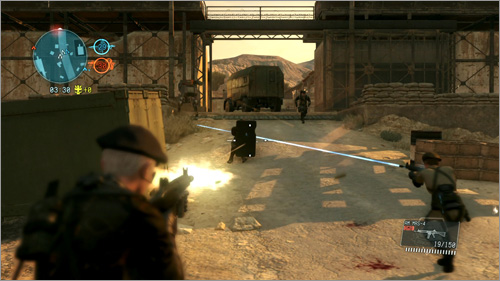 METAL GEAR ONLINE
METAL GEAR ONLINE is an online multiplayer battle mode based on the game system of METAL GEAR SOLID V: THE PHANTOM PAIN.
In order to play METAL GEAR ONLINE, you must start METAL GEAR SOLID V: THE PHANTOM PAIN with your PlayStation®4 connected to the PlayStation™Network.
After updating, download the free DLC: METAL GEAR ONLINE from the PlayStation®Store. METAL GEAR ONLINE can then be selected from the Title Menu.
* This service requires online updates. To check the latest updates, visit the official website (www.konami.jp/mgs5).
* You must have an active PlayStation®Plus membership and log in to the PlayStation™Network to participate in METAL GEAR ONLINE matches.
Free Roam
METAL GEAR ONLINE begins in free roam, during which no online battles take place.
Accessing the iDroid during free roam allows you to join online versus matches as well as perform character customization, etc.
You can also access a shooting range to polish your skills between battles.
Matches
Select the iDroid's [MATCHING] menu to join versus battles.
| | |
| --- | --- |
| [AUTOMATCH] | Select your preferred mission and automatically join a match. |
| [CREATE MATCH] | Configure your own mission list and create a match. |
| [SELECT MATCH] | Select a match created by other users to join. |